Khupe threatens to recall Job Sikhala next week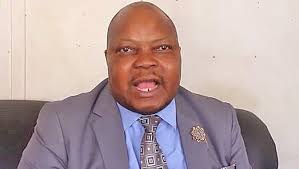 Staff reporter
The fiery MDC A Vice Chairman, Job Sikhala has been threatened with a recall from parliament for attacking Thokozani Khupe during the funeral of the late former MDC A MP Annah Mpofu.
Addressing mourners in Chitungwiza, the tough talking Zengeza West Legislator, said Khupe was enjoying power even though dogs and reptiles will never vote for her.
"Vahazvanzi yangu Khupe uya uyu, even dogs and reptiles don't want to see her asi ari mu power," said Sikhala.
Sikhala made the statement as he was warning Nelson Chamisa against basking in street populism which is bereft of strategies of taking state power.
The above statement precipitated Khupe's move to recall Sikhala.
Khupe's Personal Assistant called Mashumba sent Sikhala a whatsapp message today announcing that his statement cost him his parliamentary job, adding that he must start considering working full time at his law firm.
"Vakuzoenda havo vanonyatsoita basa ku law firm nekuti vakutuka President vangu Dr. Khupe," said Mashumba in a message to Sikhala which Zimbabwe Observer had access to.
The no nonsense Sikhala told Mashumba to proceed with the recall.
"Itai zvamunoda vana imbwa imi," responded Sikhala. This is literally translated as, do whatever you want you dogs.
Sikhala recently posted his parliamentary payslip on social media. The Payslip revealed that MPs get a paltry salary of US$150.
Sikhala's name was on the list of the recently recalled MPs but was removed on the last minute as he was still in Chikurubi.
Khupe has been recalling MDC A MPs and councillors since being crowned as the legitimate MDC T Acting President by the courts. Chamisa is yet to come up with a strategy to counter Khupe's decimation of his party.