Jah Prayzah sheds 'crocodile tears' for the incarcerated Hopewell Chin'ono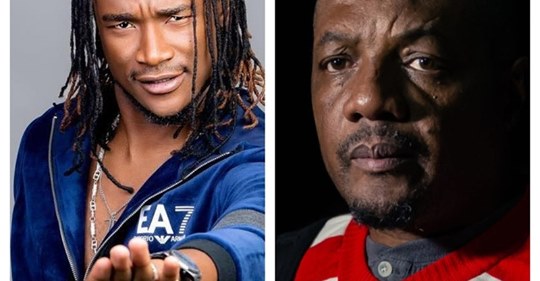 After a wild spate of harsh words exchange on Twitter between Jah Prayzah and Hopewell Chin'ono, one would expect 'Kutonga Kwaro' hitmaker to bear grudge against Chin'ono but alas, he is praying for the now incarcerated journalist.
Chin'ono's arrest sparked protestations from various opposition and civil rights groups dubbing it as decay in human rights.
However, Jah Prayzah has issued a short statement sympathising with Chin'ono despite their differences.
Writing on his Twitter, Jah Prayzah said;
You are always in our prayers mukoma
Social media users have applauded Jha Prayzah's gesture as a true indication of ubuntu.
One '@brianmaen1 wrote;
apa magona mwendamberi @jahprayzah, thats the Zimbabwean spirit we want, standing with fellow compatriots!!! united we stand
Another Twitter user wrote;
Thank you, if you stand with the people, you will never go wrong. Dictators comes and Go BUT people will always be there.
Others, however, believe Jah Prayzah is behind Chin'ono's arrest;
Silent Chanunuka wrote;
No Jah if Matigari words are true kuti hautukwi uri mhondoro yenyika ukatukwa munhu anosungwa look where's Hopewell today behind bars just because of you? Mwari ndiye chete anoziva chokwadi kuti why asungwa
Another wrote;
ka mufesi uyu hopewell aito twitter zvakanaka bvaa azongo attacker mukomana murefu next thing akutonz bail wat wat am not saying anything hangu
The standoff between the two was sparked when Chin'ono accused Jah Prayzah of siding with government and aiding 'Human Rights violations.
In his post, Chin'ono condemned Jah Prayzah and Sandra Ndebele's music which he described as condoning the alleged dictatorship in the current administration.
"JP and Sandra's music ululates the dictatorship with Kutonga-Kwaro being seen as a sound track to Mnangagwa's evil rule by the critical thinking citizens!" Chin'ono wrote.
He added, "For now Jah Prayzah can count on those fans who are not politically conscious, who don't care whether he sings for Mnangagwa or not. And they are many, but he must look at what happened to Andy Brown and Tambaoga. Ultimately, the citizen does make you pay for your choices."
Responding to this attack, Jah Prayzah quizzed the motive behind Chin'ono's post especially when considering that the latter has access to stir up the conversation with him in private space.
"What's sad mukoma Hopewell is that you have my personal number. You know the door to my office and studio, you have been there before. I do not remember receiving your call if you were too concerned kuti munin'ina do you really sing politics. Chimbondiudzawo kuti how do you come up with your songs and anorevei. Never a single day, asi nguva yekundipa advice pa twitter for loves and retweets munayo zvekuti," the crooner wrote.
–iHarare