ZINARA Finance director had only a Certificate in Bible Study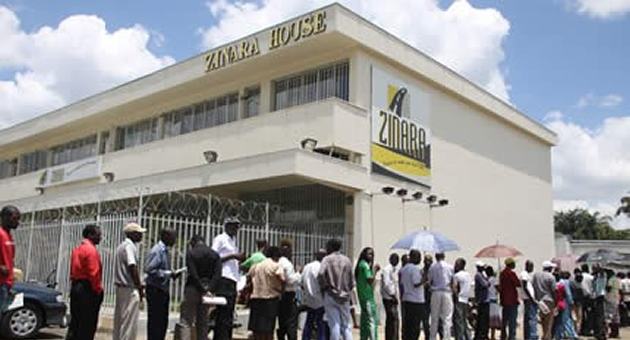 THE Public Accounts Committee of the Parliament of Zimbabwe yesterday produced a report on the audit of the Zimbabwe National Road Administration (ZINARA), with stunned legislators hearing of the massive corruption, looting and nepotism at the State-owned organization.
This came out during the presentation of the First Report of the Public Accounts Committee on the analysis of ZINARA's audited Accounts for the year 2017 ad 2018 and the Forensic Audit Report.
Although ZINARA was established in 2002, Public Accounts Committee chairperson Brian Dube (Gweru Urban) said it did not have a Human Resources (HR) lolicy at the time of the Committee's oral interview in 2019.
The absence of an HR policy resulted in serious anomalies such as the recruitment of personnel without interviews or sometimes with interviews conducted by one person, and personnel recruited without requisite qualifications.
The auditors also established a ring of nepotism in the recruitment which affected promotions and were done with tacit approval of the Human Resources Department.
Parliament heard that most senior employees at ZINARA clearly lacked qualifications as highlighted below:
Mr. Frank Chitukutuku, the former Chief Executive Officer was recruited as an Accounting Clerk studying Part B of the Institute of Chartered Secretaries and Administrators' modules.
In 2006 he was suspended from duty as the Accounting Controller for failing to submit a salary adjustment schedule to then Chief Executive Officer for approval. In the same year he became the Human Resources Manager without an interview being carried out.
On 1 April 2009, again without proof of an interview he became the Chief Executive Officer of ZINARA at a time when he was still in Part B of the Institute of Chartered Secretaries studies;
Mr. Precious Murove, the former Director Administration and Human Resources was recruited as a Procurement Officer on 24 August 2009 and was interviewed by the Chief Executive Officer, Mr Frank Chitukutuku. His qualifications at the time were a Diploma in Biblical Studies from Africa Multination for Christ College obtained in 1998 and a Certificate in Stores and Supplies Management from the Air Force of Zimbabwe.
On 1 August 2010, Mr Precious Murove was promoted to the position of Human Resources Manager with no human resources qualification and there was no evidence of interviews held. On 15 March 2013, he was promoted to the position of Director Administration and again there was no evidence of an interview.
By that time his personal file reflected that he was a holder of a diploma in Business Administration from Azalia University. However, Azalia University lost its accreditation in June 2002, implying that the qualification is questionable.
Mr. Moses Juma, the Technical Director was appointed as the Planning and Monitoring Engineer on 1 August, 2010. The Auditors noted that there was no newspaper advertisement flighted for the post and the interviews had been conducted by Mr. Chitukutuku as the sole interviewer.
Mr. Juma was further appointed as the Acting Chief Executive Officer in July 2014.
Mr. Shadreck Matengabadza, the Finance Manager was appointed by ZINARA as an Accountant on 21 May 2010. In another contract signed on the same day, he was appointed as the Finance Manager.
From a review of the personal files by the Auditors, Mr. Matengabadza held a Diploma in Accounting Technicians (ZAAT) and was in the process of completing an Accounting Degree with Bindura University.
Mr. Botereri, the Administration Manager was appointed by ZINARA as the Stores Clerk on a temporary basis on 1 December 2010. The Auditors review of his personal file revealed that he did not possess any procurement related qualification at the time of his appointment.
He only attended a course on Procurement and Stores Management at the Zimbabwe Institute of Public Administration and Management from 20 – 24 June 2011.
Mrs J. Maposa, the Human Resources Manager was appointed on 3 September 2013. Her appointment followed interviews carried out by one person, Mr. M. Juma.
In all the appointments above, the auditors noted that there was no involvement of the human resources personnel in the interview processes.
Besides the issue of apparent nepotism and incompetence in the hiring of key staff, MPs heard that during the financial year 2013, seven senior managers received gym equipment worth USD $4 000 per person. A total amount of USD $27 000 was paid to OK Mart from ZINARA's account.
The auditors noted there was no provision of gym equipment in the contracts of the individuals. Furthermore, the auditors noted that the concerned employees already had a contractual paid benefit to any gym or sports club of their choice. The gym allowance was not processed through the payroll and the payment voucher was not acquitted.
For the period 2011 to 2013, a hair allowance was paid for every lady employee for a hair do at She and He, Red Rose and Ladies Hairdo saloons for a total amount of USD $24 500.
The lady employees' contracts did not provide for this benefit and further, just like the gym allowance, this allowance was not processed through the payroll.
Generally, senior staff were overpaid resulting in massive overheads for ZINARA which were not consistent with fiscal prudential levels defined in the law, the Public Accounts Committee told stunned MPs yesterday.
Furthermore, Christmas hampers worth USD 55 700 were bought from OK MART on the 11th of December 2018 from a CBZ Account. Each Board member received hampers valued at USD 9 600. The Christmas hampers were accounted for in the records of ZINARA as expenditure for 'office supplies'.
On 22 August 2014, a payment of USD $23 518 was made to Solution Centre for the purchase of Ipads for 12 board members. This purchase was not authorised by the parent Ministry.
At one stage on 5 September 2014 and without a reasonable explanation, a board meeting was held in Victoria Falls. Board members were asked to complete two separate allowance forms totaling fees of USD $5 140 paid to 12 board members.
When Infralink was formed, three board members were seconded to the Company, namely Mr. Albert Mugabe, Mr. Davison Norupiri and Engineer Jeffrey Nkomo. Without Ministerial approval a total of USD $44 167 was paid to these board members.
MPs also heard about the massive corruption involving top ZINARA managers and Univern Enterprise. Univern Enterprise (Pvt) Ltd, trading as Southern Region Trading Company (SRTC) is a company registered in Zimbabwe.
On the 5th of April, 2019, the Public Accounts Committee interviewed officials from Univern Enterprises (Pvt) Ltd. Those present were Directors, Mr. Serge Levy (the late Sam Levy's son) Mr. Musekiwa Kumbula, the Chief Executive Officer, Mr. Phil Mushosho and the Chief Operations Officer, Mr. J. Smith.
In the meeting of 5th of April 2019, although Mr. Serge Levy was uncooperative, distractive and obstructive, the Committee said.
The auditors expressed worry that ZINARA sold all vehicle licences exclusively through the Univern system, without going to tender and while paying exorbitant fees, sometimes for work which was never even done.
In addition, ZINARA warranted that it would exclusively use Univern for all tolling stations with the exception of the nine toll stations covered under the Plumtree-Mutare Infralink route.
ZINARA further allowed Univern to collect a fee for Road Transit Fees and Fuel levy from income derived from the Road Transit System and Fuel Levy System supplied by Univern.
Debating on the report, opposition MDC Alliance MP Wesley Sansole said: "ZINARA, according to the forensic report, is a good example of how not to run a business. The level of mismanagement of resources, the lack of and the disregard for policies and procedures and the level of corruption are all very shocking.
"All the contracts which ZINARA entered into with various companies for road works were not carried out to completion. There were many such instances where ZINARA paid in advance for the full amount paid and the works were not completed.
"Contractors got away with payment without completing the works. All these must be investigated and the amounts must be recovered as set out in the report."
Another opposition MP Paurina Mpariwa said it was shocking that nepotism had been allowed to grow deep roots at ZINARA for years.
"If you then look on the qualifications of the people that were managing ZINARA, none of them including the managing director had a proper qualification, not a degree or diploma. In fact, the Finance Director had only one qualification. The qualification was a Bible Certificate from Ezekiel Guti's College, nothing else.
"This was the person that was supposed to be the Finance Director to oversee millions, not only of RTGS but millions of US$. The end result was looting of public funds in an unbelievable manner. This is the reason why I fully support that ZACC should actually get in and let justice prevail."
Norton independent MP Temba Mliswa blamed white-owned cartels like Univern Enterprise for the bad state of roads currently, saying enough reserves were being collected from motorists but looted by cartels in collusion with top politicians and managers at ZINARA.
Mliswa also said Univeen had captured some key members of Parliament portfolios and they were no longer able to carry out their oversight roles because they were in the pockets of corrupt cartels.
–Zimbabwe Voice