Chamisa neither received a call nor VVIP invitation from Zambia President Hichilema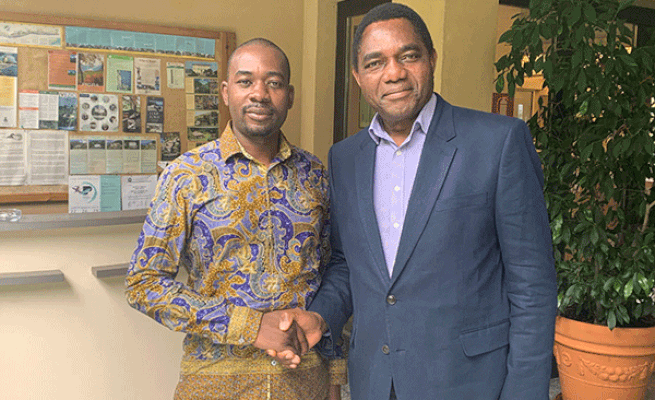 By Hosia Mviringi
Lies have short legs and there is no better person to understand the truth held in this statement than Nelson Chamisa.
A merchant of bottled smoke, the MDC-Alliance leader had claimed that he had been given a special invite to attend the inauguration of Zambia's incoming President Hakainde Hichilema on August 24, 2021.
Through his Twitter, Chamisa on Twitter claimed that he had received a special invite from the Zambian President-elect.
His camp was also pontificating to no end trying to transpose the Zambian situation to Zimbabwe.
To prove the lie that he is, Mr Nelson Chamisa, on August 16, 2021, claimed through his official Twitter handle, that he had received a call, purportedly from Mr Hichilema himself, during which call he took time to congratulate the Zambian President-elect for winning the August 12, 2021 general elections.

"I'm so humbled and excited to have received a call and personally congratulated my brother and President-elect HE @HHichilema. Join me to congratulate the people of Zambia who continue to inspire us all. Our turn as Zimbabwe is coming. We won't disappoint! God is faithful! , said Chamisa in a tweet.
A better lie would have been to say that he called Mr Hichilema to congratulate him for winning the Zambian Presidency.
Mr Chamisa suffers from exaggerated self-importance and an inflated ego, which drives him to extremes, to the extent of lying through the nose, in a make-believe movie style, much to his embarrassment.
He forgets that there is always a moment of truth to every episode.
Here we expose the lies that have made noise relentlessly for two days.
Nelson Chamisa was never personally invited to the State function in Lusaka.
The nature of the invitation is such that even Mr Marco Machona of The African Democrats (T.A.D) is eligible to attend.
Mr Egypt Dzinemunhenzva, Linda Masarira, Douglas Mwonzora and any other opposition leader can attend.
No special invitation was extended to Mr Nelson Chamisa.
Never did Mr Hichilema Party extend a personal invitation to Mr Nelson Chamisa nor did Mr Hichilema call him or anyone in the opposition circles within SADC and Africa soliciting for congratulatory messages.
Of course in addition to official invitations to sitting Heads of State and Government, that is conveyed through country diplomats, President-elect Hichilema extended an open invitation to all opposition parties in Africa as a gesture to inspire and encourage them not to give up.
In typical dead propaganda fashion, a day after Mr Hichilema issued an open invitation, which was of course broadcast through his verified Twitter handle, the Zimbabwe Standard comes up screaming with a good-sounding headline declaring Chamisa as a special invited guest of the President-elect.
Amazing how they cook these stories.
It boils down to the political economy of the publication. Kufadza mutengi wedoro (To apease the one who pays the bills)
"Friends, I've spent the Sabbath morning in prayer and reflection on the work ahead. I prayed that God will continue to anchor me, guide me and keep my thoughts fixed on service to the nation. I can't wait to see you at the inauguration. It is OPEN TO THE PUBLIC! " said President-elect Hakainde Hichilema, in a tweet which was followed by a social media poster that emphasised the same.
Of note however was Chamisa's conspicuous absence as special guest to President-elect when he met diplomats from the region and Africa on the same afternoon as he made the invitational tweet.
The incoming President met Diplomats from Zimbabwe, Malawi, Congo DR, Botswana, Tanzania, South Africa, Rwanda, Somalia, Egypt, Morocco, Namibia.
The correct position is that SADC opposition leaders were invited through their representative embassies.
Once invited, the head of state to chooses people to travel with under the ambit of the Presidential entourage.
In other words, Nelson Chamisa is fully aware that travelling alone will only get him ordinary man's treatment.

It is incumbent on Mr Chamisa to note that Mr Hichilema is no longer leader of opposition in his country.
He is now President of a nation who will be expected to behave like one.
Attending a Presidential inauguration is different from attending a funeral –which Chamisa is used to- that does not uphold any protocols.
The UPND National Youth leader, Mr Joseph Kalimbwe made it clear that all opposition leaders attending tomorrow's event were invited through their national Presidents purportedly to "do away with politics of division based on opposing views."
"By inviting Presidents and main opposition leaders from Zimbabwe, Tanzania, Botswana and other African countries, the UPND is sending a very strong message not just to Zambia but across Africa; " we must do away with the politics of division based on opposing views," said Mr Kalimbwe.


In an interview with this reporter last night Nkululeko Sibanda, who is Nelson Chamisa's spokesperson was at pains explaining the nature of the invitation extended to Mr Chamisa, if any.
Pressed to avail the letter or at least share it's contents, Sibanda was evasive, preferring only to say that the sender of the invitation did not authorise him to share its contents.
One would have expected a fair degree of excitement to prove to the world how much his principal is loved and respected regionally. But nay! You only get indifference and arrogance!
"Am afraid that sharing the letter requires the consent of the sending part, and they have declined".
Another case of self-deception by Zimbabwean opposition party of the "Patakasangana na Trump" (when we met with Trump) fame.
What good can one expect from such people who enjoy propagating a lie and make noise in newspapers, making headlines on falsehoods, only to claim to rigging when they get walloped at the polls!
Doesn't Zimbabwe deserve better?
People were made to believe that Nelson Chamisa got a VVIP invitation, which is reserved for Statesmen and sitting Heads of State and government, yet the reality is that he will be attending as one of opposition leaders invited on goodwill.
It's tragic for a country to have a pathological liar masquerading as a leader in waiting.
–Tateguru TV