Hyena attack leaves woman unable to breast feed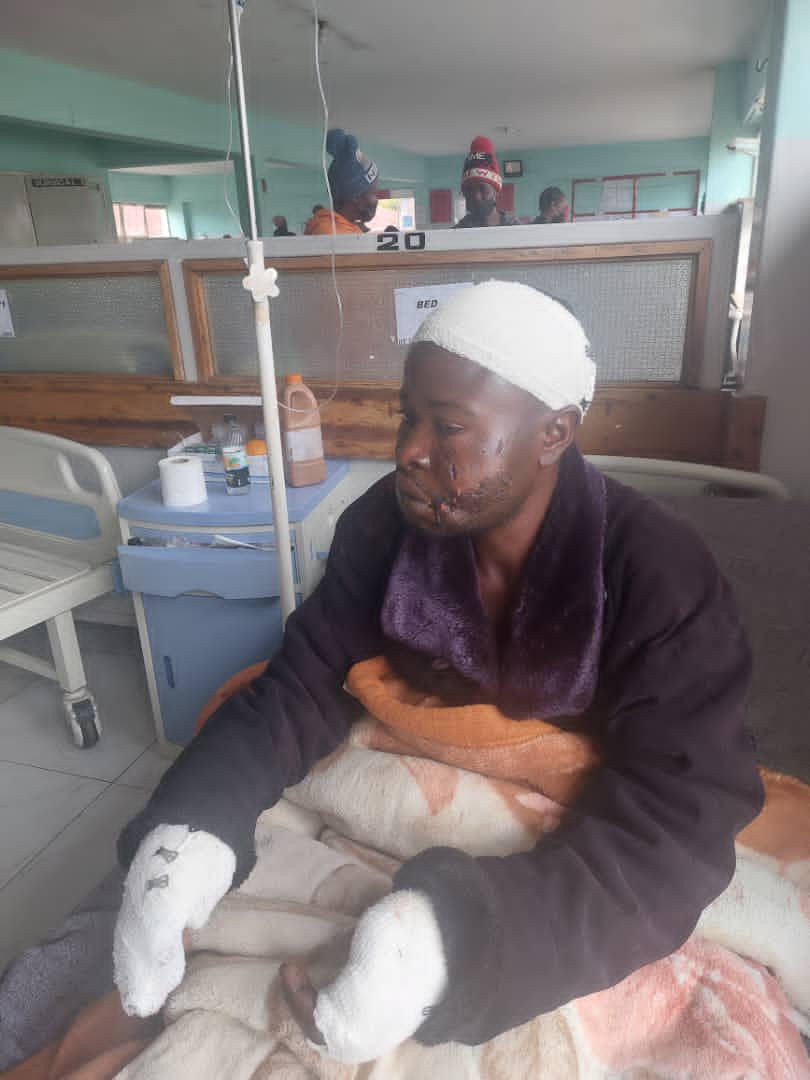 She literally lost both forearms in an attempt to rescue her husband from a hyena attack. Muchanyara Monodya is no longer breastfeeding her three weeks' old baby. Her husband who is also hospitalized lost fingers. Four other children are looking up to them for support. What the family needs right now is urgent financial assistance and prayers. Bank and Ecocash details are attached below.
On 27 July 2022, we visited the couple which is currently admitted at Masvingo General Hospital. The hyena incident happened in Mapfumo Village, Ward 32, Chief Bota, Zaka, Masvingo. Their story is dreadful. The injuries are so serious. Some of the photographs are too graphic.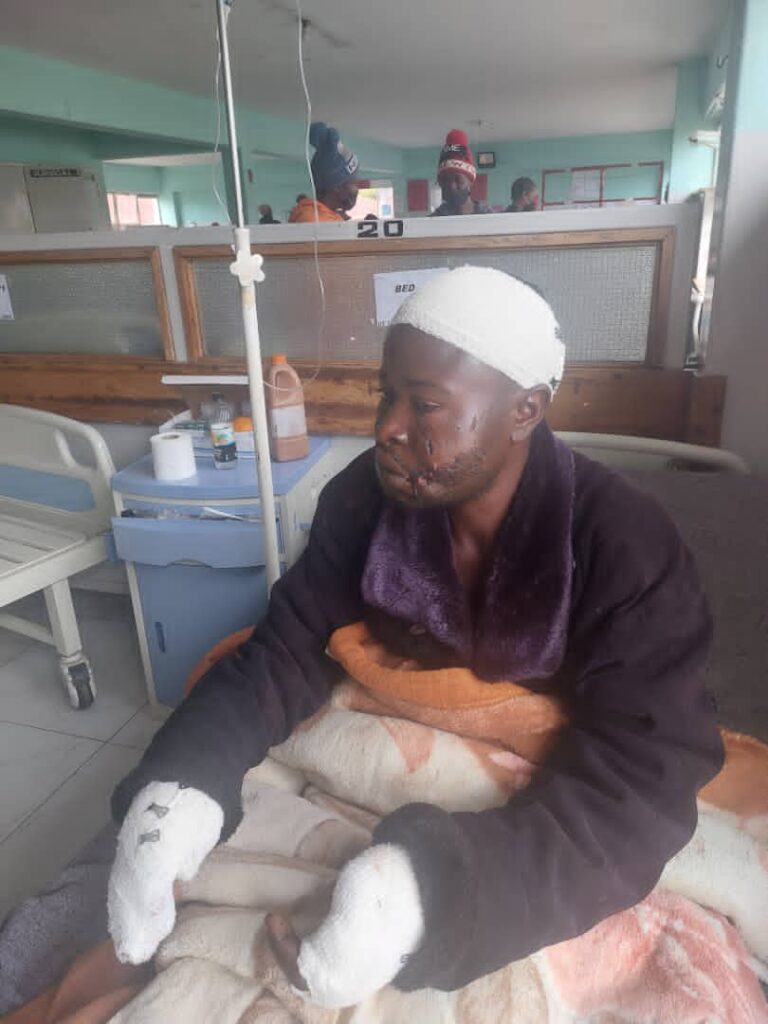 Robert Muroyi was fast asleep together with his wife when he was awakened by the noise of his barking dog. The unusual barking prompted Robert to go out to check. It was just after midnight. He grabbed his torch and went out to inspect. He did not bother to disturb his wife who was peacefully sleeping.


"I quickly grabbed my torch and walked towards the direction from which the barking was coming from. I switched on my torch light and saw the hyena walking towards the goat pen" When I drew closer, the dog advanced towards the hyena. The beast changed direction and the dog retreated. I believed the hyena had gone and started walking back home.
As I was walking, I felt a thud and the next second I was on the ground. The hyena had charged towards me and tripped me to the ground. I screamed for help whilst at the same time wrestling the beast. It was a horrific experience. It is the screaming that awoke my wife. Upon her arrival, she started making noises to scare away the hyena.
The hyena turned to my wife and launched a vicious attack on her. I helplessly watched her being lacerated by the beast, I had been badly injured and could not even stand. Blood was dripping all over my body, some of my fingers had been ripped off. The pain was so excruciating and I thought I was dying. The agony of helplessly watching my wife under a fierce attack gave me the energy to keep screaming for help.
Meanwhile, the hyena had mauled the torch. It was horrendous. My father also heard the screaming and came rushing. He picked a piece of wood and hit the hyena. The beast suddenly charged towards my father and tripped him down. It attacked him on the abdomen and hands.
Having disempowered him, the hyena went back to my powerless wife, tore apart her philtrum and continued mauling her hands.
Two men were down. Wailing helplessly and watching a woman's hands being eaten by a hyena. We could only scream and do nothing else. It was unbearable. The screams of three adults awoke my 10 year old son, brothers and other. It is my son who valiantly struck the hyena with a piece of a zinc sheet . After the strike, the hyena let go and left. Had it not been for the neighbors who came, we could all have died that evening."
As hinted earlier on, the Muroyi family is in urgent need for financial support. Firstly, there is a huge medical bill to be settled. We commend the staff at Masvingo General hospital for giving them emergency medical treatment. They have been trying their best with the little available resources. The couple was first admitted at Musiso hospital in Zaka and was later transferred to Masvingo as a result of the seriousness of the injuries.
There is obviously need for the patients to be further transferred to a more equipped medical institution, preferably a private hospital.

Muchanyara's hands were amputated and it looks like they have been infected. There is need for urgent financial assistance so that she can be referred to a specialist doctor. We are yet to hear from medical experts but it looks like the road to recovery is a long way to go.
Both cannot even drink water on themselves. They have to be fed. The three weeks' old infant has since been taken off breastfeeding. She is surviving on instant formula which is expensive. The couple has no source of finance. Keretia Mapunga (Munchanyara's aunt ) is currently nursing the infant.
Besides the infant, the couple has twin boys who are doing ECD B. The other twin has an eye problem and the couple has over the years been failing to raise funds to refer him to an optician. The brave 10 year old boy is doing Grade 3. With the assistance of the aunt and other relatives, their daughter is studying as a lab technician at Masvingo Polytechnic college.
There is no adequate medicine at Masvingo General Hospital and Muchanyara's brother and his wife (Keretia) have been buying medication almost daily. They have since run out of money.


Unfortunately, the Parks and Wildlife Act has no compensation provisions for Human Wildlife Conflict victims. As a result of the foregoing, we are appealing for financial assistance on behalf of the family. We are yet to ascertain the exact amount of money that is needed for the medical bills and all other related costs. In the meantime, those willing to assist with as little as one dollar should channel the funds directly to Keretia Mapunga through the following accounts;
ECOCASH 0773904200 KeretiaMapunga
CABS (ZWL/RTGS) Masvingo Branch| Acc No 1004125674 | Keretia Mapunga
CABS (USD/NOSTRO) Masvingo Branch| AccNo 1127596861 | Keretia Mapunga
Donations in Kind in the form of Food, clothing and any other items are accepted
For more details, contact Keretia (aunt) on 0773904200, Rumbidzai 0772511192(sister) or our Sikhangele on 0773924348. Whatsapp (+250780748786) email azp@faflozim.org,zw