Mutami demonises Kudzayi as a gay, running after her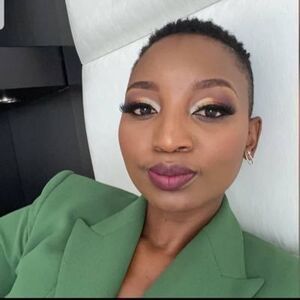 Kudzai dismisses Mutami as a harlot of politicians
Mutami says unmarried Mahere was available even to married men
CCC Spokeswoman Fadzai Mahere has acquired the services of a vicious and fork
tongued ally in her salacious fight with Kukurigo Editor Edmund Kudzayi over
the 'adulteress' tug. Kudzayi made lurid exposés about Mahere's alleged illicit
relationships with married men.
The story alleges that Mahere snatched businessman Tinashe Murapata from the
mother of his two children. And CCC spokeswoman is not letting sleeping dogs lie
but has proceeded to slap Baba Jukwa with a $100K lawsuit.

Kukurigo boss is equally not backing down. He flashed the middle finger at CCC's iron lady and went on to call her an adulteress. Mahere and Kudzayi's public spat is now set to spill in the courts, where more garish specifics of the alleged affairs will leak into the public domain. Kudzayi is vowing never to pay even a cent to the yellow lass.
The plot thickened last night with the entry of Susan Mutami in the fray.
True to her character Mutami fired salvos from Mahere's corner by accusing Kudzayi
of running after her after her ass. Mutami, a self-confessed love 'rat' and former side kick for both Norton MP Temba Mliswa and late Minister Sibusiso Moyo, rubbished Kudzayi as a gay who used his bottom power to make a breakthrough in his career.
Mutami also chastised Kudzayi as a man with 100 kgs of a woman shaped bum.
"U are too young for me Edmund, I actually prefer ur father besides I
wouldn't want to swap boyfriends na Professor. I'm not attracted to small boys
besides u once lived here in Australia. Tinadzo nyaya dzako. U got ur biggest
career break by bending for man," reads Mutami's social media rant.
Firing with all his six cylinders, Kudzayi launched a blistering hit back by dismissing Mutami as "a harlot" for politicians.
"Stop lying. My lifestyle has a firewall against harlots like you. There is
no chance in heaven or hell for you to have gotten even an inch close to me:
and it will never happen chero ukauya kurikuhope or usina kupfeka. Keep playing
with your politicians in your brothels," volleyed back the razor sharp tongued
Kudzayi.

Mutami startlingly claimed that all married men were available to single women
adding that it was impossible for any woman to own a husband.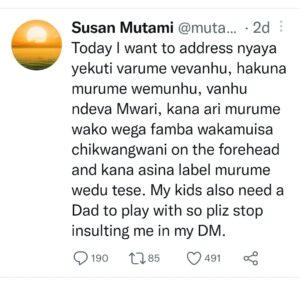 The motor mouthed Mutami added that Mahere was at liberty to sleep with whoever she feels like since she was single.
"Varakashi listen what @advocatemahere does in her private life is her
business, imimi kubva kuna @edmnangagwa anorara ne Munhu wese ari mu gvt make
if u want I'am happy to drop names and most of the ladies are married as well.
Fadzai is not married and she is allowed…" buzzed Mutami.