Chamisa popularity means nothing without strategies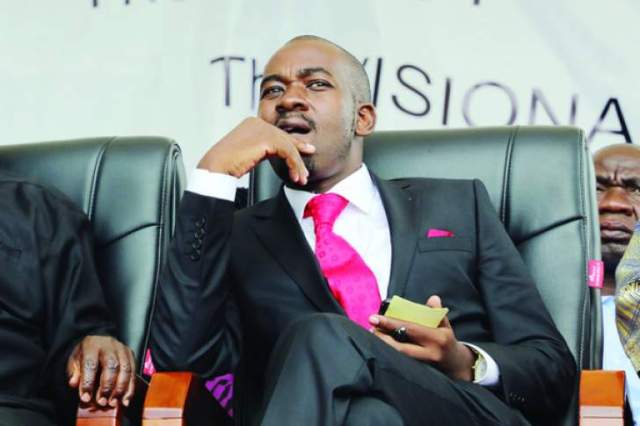 By Tinashe Eric Muzamhindo
Edgar Lungu, the current Zambian President contested the 2015 by-election after campaigning for only two weeks and managed to beat his arch-rival Hakainde Hichilema with a margin of about 100, 530 votes. Hichilema, a six-time losing presidential candidate had over 90 days to campaign whilst Lungu's ruling party was embroiled in intense factional wars to replace the late Michael Sata, the fifth Zambian president who died at the age of 77.
Lungu had little resources but he applied a well-knit strategy and won with 50.35% of the total votes against Hichilema's 47.63. These by-elections in Zambia were a wake-up call for Hichilema who used to draw prodigious crowds to his rallies. Hichilema was tipped to win the elections owing to his popularity. Sadly, he woke up to a rude shock as the Election Commission of Zambia announced Lunga the winner.
Hakainde Hichilema would spend most of his time on social media instead of being visible on the ground. Over reliance on social media is proving costly for many African presidential aspirants who have potential to win the presidency.
Politicians need to have a great appeal to the people and know them well, understand their needs and interests so that they can win their hearts and votes with little or no money.
What opposition leaders need to understand is that grassroots politics and strategy are critical to assume presidency in any given context.
The late Morgan Tsvangirai used to pull phenomenal crowds. In 2013 he pulled an extraordinarily huge crowd at Robert Square on the eve of the election day. Regrettably he lost that election. At his wife's funeral in Buhera, more than 100 000 people thronged the Humanikwa village to pay their last condolences. Everywhere Tsvangirai went, he drew gigantic crowds. With all these bumper crowds, Tsvangirai failed to get to the state house.
I have since warned opposition politicians against spending much time on social media in one of my many articles. My advice is free to both ZANU PF and MDC.
I find it a bit intriguing that opposition leaders spend much of their time on Twitter. Zanu PF is busy with Pfumvudza program in rural areas and rural folks who participate in that program will vote for Zanu PF come 2023. It is a fact that the opposition controls urban stake. It is a fact that many people are tired of Zanu pf. It is a fact that Zanu PF has failed to live up to its promise. It is a fact that Zanu pf has run down the country. But what is worrying at the moment is the failure by the opposition to take advantage of the current economic mess to offer tangible solution to the despondent nation. What is even more worrying is the failure by the opposition to introduce its own "Pfumvudza" to the urban denizens.
In my next article I will shed more light on the Pfumvudza concept and the chemistry behind it. Nevertheless, my advice to the opposition is; don't criticize Pfumvudza but come up with something that can outsmart Pfumvudza and put in place urban and rural policies. The fact is Pfumvudza is roaring in rural areas and Zanu PF is taking advantage of this program to drum up support ahead of elections 2023.
Zanu PF will not afford to lose elections consecutively
The struggle needs schemers. Look at how Zanu pf invests in spin doctors and other social media guerillas well known as Varakashi. Zanu pf would rather starve the nation and underpay civils servants to just invest in projects that will help them retain power. It is the opportune time for opposition to consider investing in schemers that will help them with counter strategies to navigate the cumbersome political terrains.
When Chamisa took over as MDC president in 2018, many people especially the youths rallied behind him. He gave the people a reason to hope again. The MDC Alliance was supposed to grab the opportunity to translate their popularity into power. Sadly the party plunged into ugly factional wars that are threatening to totally decimate the party.
What I want to warn the opposition is that you can't be crybabies in politics. Be strategic and organize yourselves. Go back to the drawing board and come up with rejuvenating message to tell your supporters. This "Tinosvika Chete" slogan is now tired, people have waited more than enough and they now need action. Time is moving, people need action and tangible things. Deploy strategy in key areas of governance.
I repeat, Zanu PF does not lose elections consecutively. Every step and process in politics requires strategic intelligence. Look at the Malawians experience, they were well positioned, and they had plan A and B, and this worked well for them and today Chakwera is at State House. He managed to infiltrate state apparatus. Wy can't the opposition in Zimbabwe do the same?
Opposition should be ahead of the game. You need to outfox Varakashi and put in place programs that appeal to the electorate more than Zanu pf's Pfumvudza. ZANU PF is not finished yet, it is working hard on the ground and mobilizing as many people as possible. Remember they are targeting 5 million voters in 2023. It may seem laughable but they are making inroads.
Whilst it is important for Nelson Chamisa as the MDC Alliance President to maintain the face of opposition politics, some of his luitenants are not doing the best for him by contradicting themselves on social media regarding party positions. You must keep cards close to your chest.
Last but not least, Zanu PF supporters in rural areas vote overwhelmingly. Yes, there is intimidation but there is need for opposition to thoroughly conduct civic education to counter some old Zanu pf tactics.
In urban areas, you find youths playing golf or cricket on the voting day. You need to mobilize these youths with enlivening message so that they understand the importance of their vote.
Rigging is countered with strategic intelligence
You must be ahead of your political nemesis. Plan ahead
Tinashe Eric Muzamhindo is the Head of Zimbabwe Institute of Strategic Thinking – ZIST and he can be contacted at executivedirectorzist@gmail.com