PTUZ leader calls for a united front of teachers' unions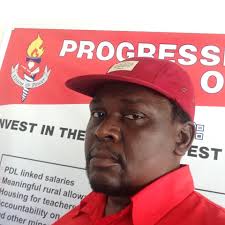 By Dr. Takavafira Zhou
Teachers have fought good battles navigating across several landmines and threats and must be more careful now that incapacitation has riverberated across the country and in the corridors of governmental powers.
In his State of the Nation (SONA) President Mnangagwa acknowledged that teachers, nurses and other gvt workers have legitimate grievances and gvt would look into these. However, its one thing to acknowledge grievances and challenges, and another to provide a panacea to the challenges. We, therefore, hope that gvt would seriously interrogate the teachers' United Front petition to the President of Zimbabwe and mellow down to meaningful dialogue with teachers.
Any attempts to smuggle Apex in the equation in which it has been conspicuous by its silence and non participation will cause mistrust, dispondency and betrayal in decisive battles. As Ptuz it is our humble submission that is shared by the majority of educators that tried and tested commanders who have distinguished themselves in incapacitation battles must continue to unwaveringly and unflinchingly lead decisive battles and thus complete the mission thrust upon them by general membership.
We however have no problems in fresh recruits joining the thick of the incapacitation battles. We therefore openly invite COLAZ and Rest of Civil Servants combatants to the incapacitation battles so as to maximise gains and minimise losses. If such comrades cannot join the battlefield, they must never be accommodated at determining the outcome of incapacitation battles they never fought.
In many struggles those who form the backborne of the strugggle lose the battle at negotiations and we must guard against this historical fiasco in our current incapacitation struggle.
Minister Mavima's reference to a so-called negotiatiated agreement of a minimum wage of US$238 must not be misconstrued as a reference to teachers' clamour for the restoration of their purchasing power parity pegged at US$520-US$550. Rather that is a result of Tripartite Negotiatiom Forum comprising labour, gvt and industry and does not change teachers' bargaining position. What is however worrisome is who represented gvt workers in this dialogue conglomerate, as to the best of our knowledge we have not been consulted as the largest sector of workers in Zimbabwe, viz, teachers.
We salute the role of school heads in the current incapacitation struggle and urge them never to salivate at attempts to alienate them from the rest of incapacitated teachers when they have nothing to show for their managerial positions other than sharing poverty with the rest of other teachers.
We continue to urge some school heads and teachers who are addicted to extortion, extra lessons and incentives to familiarise themselves with the Secretary's circular No.6 of 2014 which banned incentives. Needless to point that they also need to familiarise themselves with the Education Act in which levies at schools are for the development of schools and not payment of incentives. Henceforth some teachers and school heads at the following schools, among many others, must be warned for extortion: Robert Tredgold, Coghlan, Eveline Girls, Founders, Gifford High, Milton High (all in Byo); St Johns High Chikwaka, Rusununguko High (Mash East); Maizelands Sec, Bradley (Mash Central); Chinhoyi High (Mash West); Thekwane High (Mat South); Dadaya, Hama High, St Patricks etc (Midlands); Ruya Adventist High School. By no means is the list exhaustive but it represents schools from which we have received concrete evidence of extortion by either school or teachers and at times both. At some of these schools parents have already written affidavits of extortion, produced messages sent by school heads or SDC/A chairs demanding US$20 towards teachers incentives per month. Some teachers are also asking for payments ranging from US$5 to US$20 per month for extra lessons. Our humble submission to all and sundry is that this is not necessary, would invite charges and reimbursement of students would be painful.
While we appreciate the touring of schools by education officials to assess the situation in schools we are worried with some such officials who are bent on discarding the parlous situation is schools to legitimise their pre-determined position that phase 2 reopening of schools for grades 5 & 6, form 3 and L6th must proceed on 26 October 2020. We appeal to these officials to be guided by truth that can set them free than a facade of lies.
We urge parents to resist payment of incentives to teachers but rather encourage teachers to demand a living wage from the gvt. Other parents have withdrawn their children from schools until teachers return to classes and you may leave your children at their own peril.
To incapacitated teachers we hope our decisive battle would be won soon. Meanwhile we should continue to sharpen our instruments of incapacitation struggle, urge cowards and extortionists to get in trenches of incapacitation until a living wage deal is sealed. The issue of health and safety of teachers and pupils remain a high priority. Our incapacitation battles must be concluded soon and we must therefore engage a high gear that can guarantee a 0% presence in most schools.
—Dr Takavafira M. Zhou is the president of Ptuz